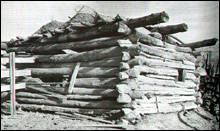 In the summer of 1859, a young man named Ben Snipes drove his cattle into the Yakima Valley to build a headquarters for his growing cattle business. The spot was a perfect location. From it, he could manage his cattle range, which bordered the Cascade Mountains on the west and extended east beyond the Columbia River, north to Canada and south to Oregon. He built a modest log cabin and from it managed a herd that is believed to have numbered over 35,000.
Some winters on the range were severe, killing thousands of cattle. But Ben Snipes would rebuild his cattle empire and return to his headquarters in the Valley. The log cabin was his hub of operations, located on a site that could be recognized by fellow ranchers for miles. It was a place where a traveler could rest, enjoy good company, and eat a fine meal.
It was known as Snipes Mountain.
Much has changed since that summer. Orchards and vineyard cover Snipes Mountain today. Ben Snipes' cabin now rests in the Sunnyside City Park as a monument to a man who braved considerable odds to become the Northwest Cattle King.
But one thing has not changed. You are still welcome here at Snipes Mountain. You see, Snipes Mountain is still a place where you can relax, make friends, and savor one of the finest meals the Valley has to offer.
Ben Snipes would be proud.