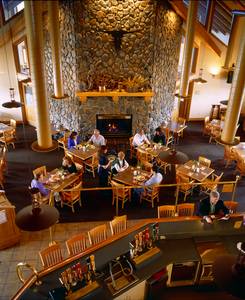 Walk through the etched glass doors and take in the view. As your eyes travel the landscap, you will come to appreciate the details of this fine establishment, which encompasses the feel of a mountain lodge. Our main dining area is known as the Sunny Valley Room; boasting high wood ceilings with real log beams, with a giant rock wall encasing a gas fireplace. There is a custom made oak bar looking over towards a spectacular wood-fired oven.
Beyond the doors on either side of the fireplace, continue into the Sunset Room. With a high log ceiling, matching rock wall and fireplace as found in the Sunny Valley Room This dining room can also be used as an event space. Fully equipped to host any function you desire; casual or formal, seating capacity is 115 people.
At the end of the Sunset Room, pass through a final set of double doors to the adjoining fenced-in patio which can accomodate an additional 115 people comfortably. Equipped tables & umbrellas, heat lamps (for the cooler months), this exterior space is perfect for Receptions or just dining.
Upstairs from the Sunny Valley Room is our own little hideaway, the Summit Room! Available for smaller functions and meetings, a private patio allows for up to 50 people comfortably.
We at Snipes Mountain Restaurant look forward to seeing you soon!